Conclusion
The MSI Artymis 232CQR can be found on the market for 599 €. The performance of the MSI MPG Artymis 323CQR is solid, but the rather low resolution for this size of screen makes it lacking. It's a good gaming monitor, but in office use, you'll quickly notice the large pixels at this resolution. The calibration is the other flaw of this screen, which, however, makes a flawless on the gaming features.
MSI Artymis 232CQR
We liked:
Excellent input lag
The integrated mouse bungie
The ease of adjustment
We liked less :
The QHD on a 32″ screen
The factory calibration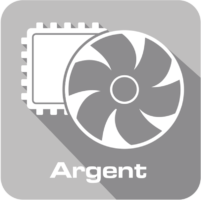 In the end, we choose to award silver to the MSI Artymis 232CQR. As displays get bigger, MSI has taken the gamble of combining large size and curve. The 32″ QHD gaming market is very competitive, however, and if you don't need the features of this monitor, you'll surely find it expensive.